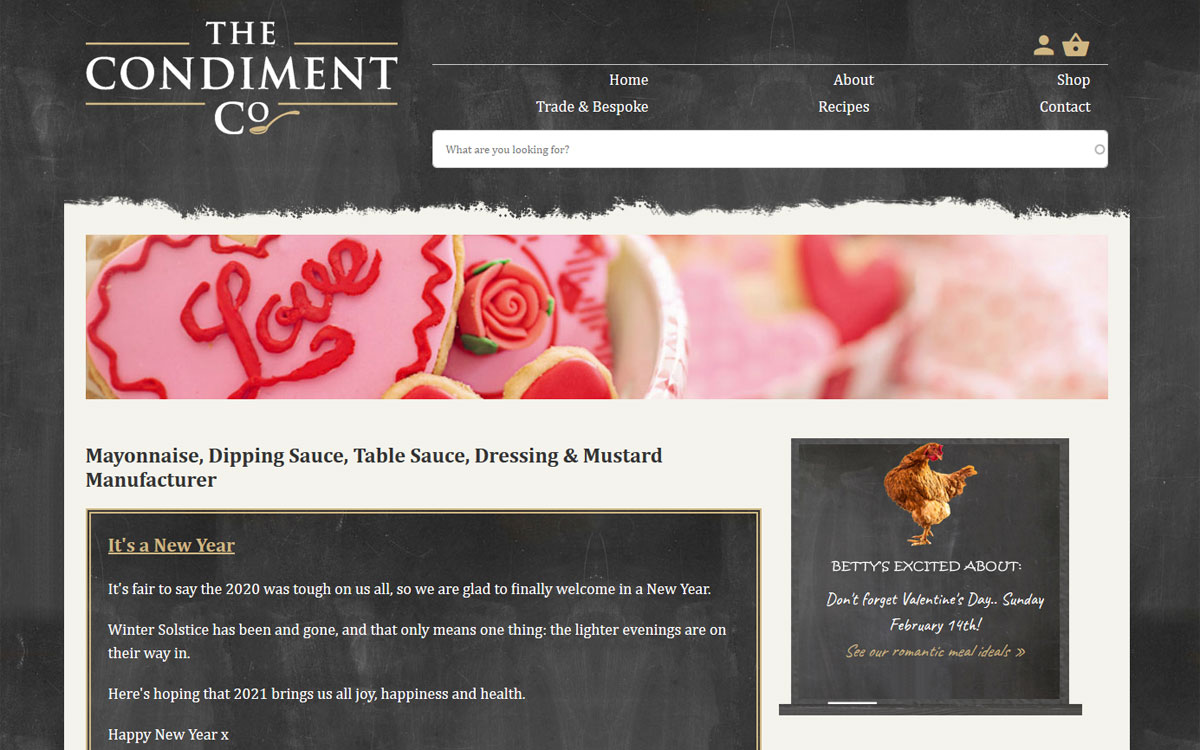 The Company
The Condiment Co. started making mayonnaise in 1986 selling to local chefs for their restaurants. Business went so well that they started mayonnaise production full time; expanding into making bespoke products for a wide range of other farm shop and deli focussed companies. Their small but dedicated team have gone on to develop a wonderful range of delightful dips, sauces, dressings and mayonnaises that suit every pallet and food situation.
Georgina Phillips from The Condiment Co. was really frustrated with her website and contacted Media Matters Web Design to create a fresh new website; to be compatible with all platforms and be more functional for her to use and update herself. Hearing about us through a colleague who had recently had their website designed by us, Georgina was also thrilled that we were local to her new premises in West Marden, West Sussex.
The Issues
Georgina had several issues with her existing site - the most frustrating of all for her was not being in control of the content. In the few areas she was able to manage the content, the existing site was very complicated and required various codes to be embedded within the text. Not only was this over-complicated it was also time consuming and unnecessary in a modern website. Her web designers were also charging her a fortune to make even the smallest of changes.
The Brief
We met with Georgina to discuss her requirements and Carl Bowles, Senior Web Designer, set to work. The Condiment Co. website was given a complete make-over with a fresh and clean look that showcases their award winning condiments. Georgina is particularly pleased with the new on-line shop we created for her which is fully functional on all platforms and allows individuals to purchase their goodies. We implemented an easy to use content management system allowing Georgina to quickly add or change content and products without commissioning her web designers to do the task. When Georgina is in business meetings she is now able to showcase her products on her tablet as the site is fully responsive on all platforms and browsers.
The Result
Georgina said…
"Our previous website was difficult and time consuming to update and as a result, the site remained pretty untouched for some time. I cannot praise Media Matters enough for their professional service that most certainly had the personal touch. From concept to creation Carl interpreted the brief exactly as I wanted and I can now add my own products, news items and content in a very simple way. I can't wait to see the results of my 3 months free Search Engine Optimisation. I am already seeing the benefits with a large increase in sales of our award winning Sussex Valley range in the shop – which, thanks to Media Matters, now works properly".
The Condiment Co have been treating your taste buds for over 25 years, now in new larger premises this family run business is looking forward to expanding its award winning Sussex Valley range, made available on their website for everyone to enjoy.
Why not have a look at The Condiment Co's new website for yourself.